Condominium Insurance Quotes
Get a fast and free condominium owners quote and see how we can save you money AND provide the broad condo coverage you need! Our condominium policies less than $200 per year. Request your Online or "by phone" New York Condominium Insurance Quote NOW!
Please fill out the form below to get a FREE Quote: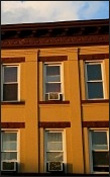 We Write N.Y. Condominiums!
Special New York Condo Plan for the BEST RATE!
First time Condominium Buyers Welcome!
Scheduled Arts, Jewelry and Collectibles OK!
Policies Issued the Same Day Quoted!